How to Make an Oat Meal Tin Camera
---
We use an oatmeal tin for this project. In order to reduce the internal reflection, we will apply black self-adhesive felt paper to the inside of the tin. The advantages of using felt are that it is very light-absorbent, and it can hold film or paper more firmly, due to its tiny hairy-like structure.
You can also use regular paints or spray paint. The disadvantage of spray paint is that the small particles do not always adhere firmly,and your film or paper may develop many tiny spots as a result.
---
Step 2:
---
1. We need to cut 4 pieces of self-adhesive felt paper for the internal wall, top cover, bottom and the top edge.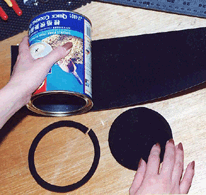 2. For the top cover, top edge, and bottom, you can measure the diameter with a compass.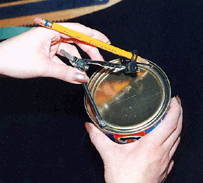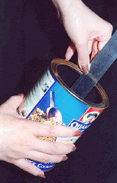 3. For the internal wall, you need to measure the length with a ruler and internal diameter of the tin, then multiply the diameter by 3.14, which will render the "width" of the internal wall. Be sure to add at least 1cm for overlapping.
---
Click on arrow for next or previous steps.
Camera design is copyrighted by the camera designer. Any reproduction of this camera for commercial use is prohibited.
Web page build at September 26, 2000, last updateApril, 2008
All design and images in this page copyrighted ©2001-2008 Zero Image Co.