From 1/1/2007, all customers from Italy, Spain must send us your telephone number so that we can put it on the larbel of hte parcel. If there is no telephone number on the parcel, the custom of your country will refuse to handle the parcel and return it to us. If you order our products by Paypal, please send us your telephone number by email.
Thank you for your co-operation.
25th Janyary, 2006
Our New Zero 612B Economic version pinhole camera is now available.
The price is affordable. It's price is less than half the price of our deluxe Zero 612F while they are of the same high quality...
Click on image to see more details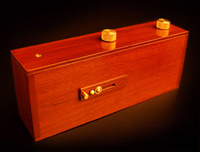 The price including shipping to every corner of the world is just US$217.
*Special Discount for previous customers: US$207.
Don't Miss it!!!

Don't miss the Zero Image Flickr Group where more than 650 photos took by Zero Image camera are shown. The administrator of this group is Oliver Rockwell of Blue Moon Machine. You are welcomed to join the group and share your images with other Zero camera user.
Now here is more than 1400 Zero Image photos found at
http://www.flickr.com/search/?q=zeroimage

Don't miss the excellent photos of the 2005 and 2006 gallery...
Don't mist it!
This website, and its component parts, are the property of the Zero Image Co., and are protected by the copyright laws of Hong Kong and under international law. This website, and its images or designs may not be copied, duplicated, stored or otherwise reproduced, in whole or in part, without the express written consent of the Zero Image Company.
Web page was built on September, 1999, last updated February 6, 2007
All web content copyrighted ©2005-2007 Zero image Co. All rights reserved.