The Zero 612 B Economic is designed for those who want to explore pinhole panoramic with 120 roll film. This model is actually a simplify model of our Deluxe 612 with affordable price. The basic structure, workmanship and quality is same as the deluxe version.

Each camera is packaged in a gift box, and comes with an free exposure scale, our newly designed viewfinder, an instruction manual, a serial number etched on a brass plate, with a certificate of authenticity signed by our camera designer, Zernike Au. The total price including shipment to every corner of the world is only US$
253
.
We accept major credit cards. Click on the "Order Now" button to submit your order now!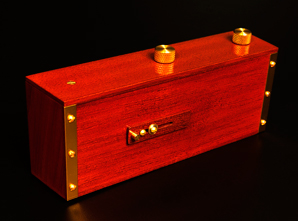 After the launch of our Deluxe 612F pressurized back Pinhole camera, we have a lot of customers who want to explore the world of panoramic pinhole photography and have requested a basic 612 camera with affordable price.
The New Zero 612B Multi-Format camera is now available, and will be limited to a production run of 2000 pieces, with each camera bearing a unique serial number etched on a brass plate attached to the camera.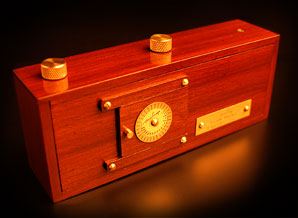 Specification
Material: Teak Wood
Weight: 380 gm
Pinhole Size: 0.25mm
Zone Plate: 40 mm with 11 zones
Focal Length: 40mm
Tripod socket: 1/4" Thread
Angle of View (diagonally):
116.89 deg. (6 x 12), 104.87 deg. (6 x 9),
95.06 deg. (6 x 7), 89.77 deg. (6 x 6), 81.72 deg. (6 x 4.5)
Dimension: 8 1/4"(L) x 2 3/4"(D) x 3 1/4"(H) including all knobs
Film Stop: F/158 (pinhole), F/55 ( zone plate)
Film Format: 120 Roll film in 6 x 4.5, 6 x 6, 6 x 9 and 6 x 12 format
(not compatible with some China brand film)
Price: US$212
Shipping: US$41
Specifications and design are subject to change without notice.
Move your mouse over different parts of the camera to see more details.

We use 0.001" brass shim to make the pinhole conform to a more actual film stop number; and to render a sharper image.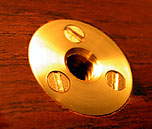 This camera comes with one tripod socket at the bottom of the camera, which allows you to set your camera horizontally. Its 1/4" thread tripod socket allows you to adapt it to nearly all kinds of tripods available in the market.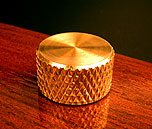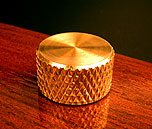 Film advance knob with knurled diamond pattern. Single-direction mechanism of the film winding button prevents the film from curling backward.
The structure and joints of the camera are specially designed, with reinforced bonding which allows the camera to shrink and to swell without affecting the performance of the camera when the weather changes.
The mechanism and the structure of the camera make it work like an ordinary camera, but it is capable of taking extraordinary pictures!

Our Exposure Scale can help you to calculate varying exposure times quickly. The polished brass displays a finely-etched rendering of the scale.

This 10-in-one camera not only allows you to switch between pinhole and zone plate version, but also allows you to set the film format to 6x4.5, 6x6, 6x7, 6x9 and 6x12. Simply select your preference before the film is loaded.
Carry one camera instead of 10!!

It's Collectible: A signed certificate of authenticity by our camera designer will accompany each camera. Every camera comes with its own serial number etched on a beautiful brass plate.
All the mechanical parts and pinholes are installed by our designer, Mr. Zernike Au, who also designed all our cameras and accessories. Every camera is checked and tested by him to ensure the highest quality.
For the materials, we choose only high-quality teak wood from Thailand. The wooden parts are first kiln-dried and then machine milled into the correct size.The interior of the camera is painted in matte black color (including the brass pinhole which is stained in black color). This minimizes the possibilities of internal reflection or "lens flare".

To achieve maximum protection and durability, more than twenty-five layers of protective finishing are applied to the camera.
We use hand-turned solid brass for all metal parts. A baked color coating is applied to all the brass parts to prevent them from oxidizing.
A simple shutter with low-pressure spring to prevent it from opening suddenly when carrying. The operation is smooth enough to avoid any vibration when opening or closing the shutter.

Camera Folio
Camera Folio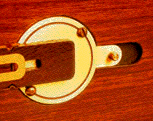 With its cutting-edge CNC technology, the exclusive design of this camera allows you to switch your camera to either pinhole or zone plate version as easy as breeze.

A center lock secures the top cover of the camera in place. Its practical design allows you to load and unload your film wherever you want. No dark room or changing bag is required.
The Zero 612B Multi-Format camera is a wide angle camera with a focal length of 40mm, and accepts 120 roll film.

It's a truly unique addition to your collection of pinhole cameras. Don't miss it!

The film counter window allows you to know how many exposures are left. The window comes with a cover which works best for infrared photography, and also reduces the possibility of light leaks.
This camera takes 16 frames when set to 6 x 4.5, 12 frames when set to 6x6, 8 frames when set to 6x7 and 6x9, 5 frames when set to 6x12.

A take-up spool is provided. All you need to begin taking great pictures is a fresh roll of 120 format film.
UK Registered Design No: D3014535